5 Creative Small Bathroom

1. Efficient Minimalism
Clean, elegant and efficient. This no-nonsense design is beautiful without excessive fuss and décor. Its modern minimalist features include clean lines, neutral colours and bare walls. The huge lightbox in the shower ceiling provides ample lighting, while the black-framed glass divider separates the wet from the dry section.
2. Glass Shower Walls
Dividers and screens will cut-off the line of vision and make a room look smaller. The glass shower wall divider is best for smaller bathrooms as it serves the purpose without limiting the view. The clean white walls and bright shower skylight help make the room appear more spacious and airier.
3. Vintage Black and White
Chic, elegant and timeless. This classy black and white bathroom brings a lot of nostalgia with its vintage theme and ambience. Black and white prints, claw-foot tub and potted plants bring back an idyllic era of grace and style. The eye-catching black penny tiles and modern fittings give the room its updated look.

4. White and Bright
This predominantly white bathroom makes use of every available floor space without craping the room. The complete bathroom includes a tub, a shower, a vanity sink and counter, toilet and more than enough room to move around. The beautiful mother-of-pearl accent wall directs the eye towards it and the window, keeping the middle space clear with glass shower walls and everything set to the side.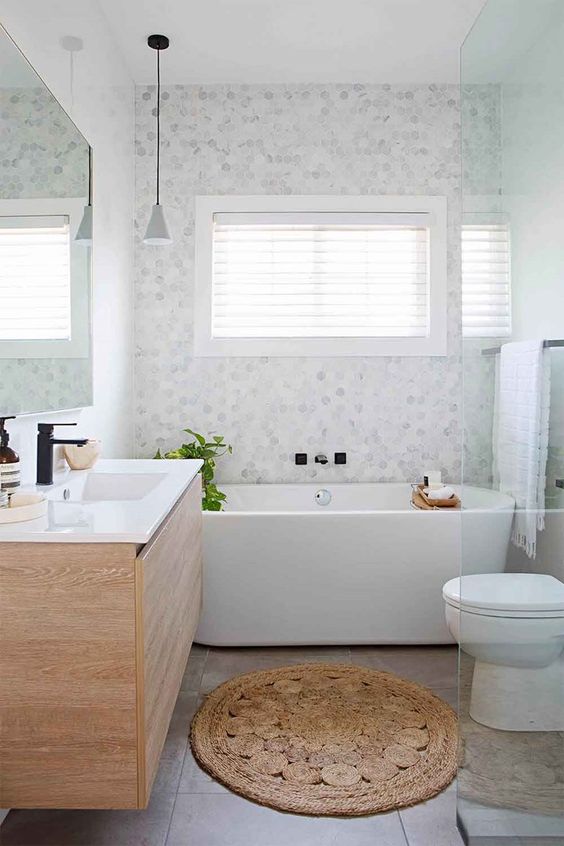 5. Living Moss Wall Tiles
This small bathroom gets a surprise element from its live moss wall tiles. The sleek white interiors get disrupted by the warm wood-themed floor tiles and the eye-catching bright green squares of wall plants. The bathroom also gets a boost in size from its wall mirrors and great lighting.